Enjoy our 2013 - 2014 season
Featuring the Music of . . .
BACH, BAX, BEETHOVEN, BERG, BLOCH, BRAHMS, GRANDI, HAYDN, MARINI, MENDELSSOHN, MONTEVEREDI, RAVEL, SCHUBERT and SCHÜTZ
The JUILLIARD STRING QUARTET's first San Jose concert
BEETHOVEN STRING QUARTETS - continuing the 3-year Cycle
Musicians from Germany, England, and the US
Auryn String Quartet, Gould Piano Trio with clarinetist Robert Plane, and Morgenstern Piano Trio
Music of Venice in 1629 performed by Magnificat
Our 28th Year of Live Chamber Music!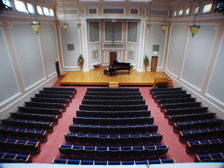 Join us for the best chamber music presented in the finest chamber music venue, Le Petit Trianon at:
72 N. 5th Street
San Jose, CA 95112